Traditonal Wines from Bordeaux
In the heart of the beautiful Entre-Deux-Mers in the Bordeaux wine-producing region, near Creon, the vineyards of Chateau Haut Pougnan spread on the slopes of the right bank of the Garonne, superb clay-limestone soil and gravel.
The slopes are home to East and South vineyards of red wine grapes, the slopes West remain the domain of white wines.
The nature of the calcareius clay of these soils result in very fine wines with subtle bouquet.
The following grape varieties are utilised in the making of various wines on the estate. The red wines from Merlot (50%), Cabernet Sauvignon (40%) and Cabernet Franc (10%) reflects the triology of Bordeaux varietals.
For white wines, Sauvignon (70%), Semillion (25%) and Muscadelle (5%) give them a delicacy and a prestigious bouquet.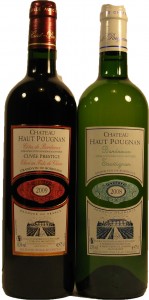 Chateau Haut Pougnan 1er Cotes de Bordeaux Rouge, rich and fruity has a tanicity particulary well balanced. On a beautiful dress, this wine continues to please with its elegance and balance in the  mouth.
Chateau Haut Pougnan Blanc is of great finesse and has a remarkable bouquet. Sauvignon Blanc is perfect for seafood dishes, or at any time simply for pleasure .
White wines are ideal for drinking young but will store well for a number of years.
Red wines are aged a year in oak barrels and flourish at the end of three to five years. Great vintages mature harmoniously in the cellar with an ageing potential from eight to ten years.
Both wines can be drunk on their own, or will make a wonderful accomplement for an evening dinner.
HAPPY CHATEAU POUGNAN DAYS
DEL
Written by
siteadmin
(click for further articles)
Posted in
Alexander Hadleigh Latest News
,
New Wine Listings
,
Wine-France
| The post has tags:
alexander hadleigh buy online now
,
alexander hadleigh wines online
,
blog about bordeaux wines
,
chateau haut pougnan
,
hampshire and uk wine merchant
,
portsmouth wine merchant
,
southampton wine merchant
,
traditional bordeaux wines
,
uk online wine merchant
,
wine blog
,
wine merchant delivers worldwide