If you like flavours from the best of lemons, then you will love this phenomenal liqueur and if you are not a fan of lemons – still try a little and you may find yourself converted.
Salvatore Calabrese, the inventor of this liqueur, grew up on the beautiful Amalfi Coast of Italy, and returns every summer with his family to relax and enjoy all that it has to offer, including the local Limonello Liqueur. For generations the lemons have been cultivated on the sunny mountain sides and gone into the making of this popular digestive liqueur, traditionally made with a harsh grain spirit. Salvatore felt that he could improve on it: "these are the best lemons in the world, and should be married with the best spirit."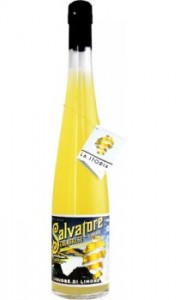 In creating this Liquore di Limone, the maestro insists on fragrant Amalfi lemons; these are picked at the end of spring when the lemon oil is at its most aromatic. Salvatore specifics that only the best Eau de Vie – "the noble cognac" – should be used to infuse the lemon zest. He also requires that the lemon zest is left to infuse slowly for a full five weeks.
Enjoy this Liqueur straight at room temperature, chilled over ice, straight from the freezer or at the centre of a cocktail, and you will savour the work of an undoubted maestro.
My favourite is with a little more cognac, topped up with tonic, lemon and ice.
Salvatore Calabrese's Liquore di Limone  50cl 30% abv
Save
Written by
siteadmin
(click for further articles)
Posted in
Alexander Hadleigh Latest News
,
Liqueurs
,
New Spirit Listings
,
Spirit-Cognac
| The post has tags:
Alexander Hadleigh Blog
,
alexander hadleigh buy online now
,
alexander hadleigh online
,
alexander hadleigh uk wine shop
,
buy wines online from alexander hadleigh now
,
Cocktails
|

Comments Off

on Salvatore Calabrese Liquore di Limone