" For many cognac connoisseurs,the Ragnaud-Sabourin estate is the mecca of the whole cognac region.The family's fruity and well-balanced brandies remain a yardstick with which to judge the best products of the Grande Champagne" , Nicholas Faith, Classic Brandy
The Ragnaud-Sabourin family owns one of the most prestigious private estates in Grande Champagne and certainly have a grand history.The estate was established in 1850 by Gaston Briand, one of the first in the region to push for an establishment of recognised crus. In 1941 a spilt took place in the Ragnaud family and one brother,Raymond Ragnaud,set off on his own. The other brother, Marcel Ragnaud,went on to develop Ragnaud-Sabourin and establish the house as one of the finest in Cognac.
Today the Domain La Voute is run by three descendants, from grandmother to granddaughter: Denise, Annie and Patricia Ragnaud-Sabourin.Together they oversee the vines, which stretch across the chalky slopes of Ambleville in the heart of Cognac's premier cru region, Grande Champagne.They are also wholly responsible for all aspects of production and ageing, always determined to produce limited quantities of the highest quality.
All their cognacs are matured as vintages;there is no blending between years,no sweetening and no colouring. The name of each in the Alliance range illustrates the minimum age of the cognac contained in the bottle.
Our selection includes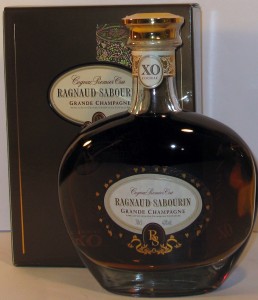 XO Decanter which has an elegant finish with much finesse and just a tickle of spirit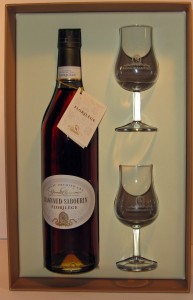 Florilege with complex dried fruit character with a sweet spiciness and slightly dry but very long finish.

 Fontvieille No35 has a quintessential Grande Champagne cognac   nose, delicate  and elegant with a subtle  mix of oak spice and balsam, complex finish.

   Vintage 1990 , double distilled and matured in Limousin cask, rich oily unctuous notes and the famed rancio charentais clearly discernible

Alliance No20 Special Reserve has a deep, golden amber colour with spice, vanilla, citrus oil and a little  expresso coffee on the nose,light toffee undertones, oak and a dry long finish.
Others in the selection are Alliance No10 VSOP, Alliance No 4,Ragnaud-Sabourin VSOP
HAPPY COGNAC DAYS
DEL
Written by
siteadmin
(click for further articles)
Posted in
Alexander Hadleigh Latest News
,
New Spirit Listings
,
Spirit-Cognac
| The post has tags:
Add new tag
,
best brandy online retailer
,
best cognac online retailer
,
buy brandy online now
,
buy cognac online from alexander hadleigh
,
buy cognac online now
,
cognac online
,
cognac ragnaud-sabourin
,
fine cognac
,
hampshire and uk wine merchant
,
old cognac
,
portsmouth wine merchant
,
rare cognac
,
southampton wine merchant
,
vintage cognac
|

Comments Off

on Cognac Ragnaud-Sabourin