Domaine Dupont is situated in the heart of the Pays d'Auge Calvados. This is a region which has long been considered as to adding a little extra to the finesse and delicacy of the calvados because it only permits the use of apples and insists on double pot distillation.
In 1980 Etienne Dupont took over from his father and has worked hard to improve the orchards and distillation methods.The orchard is now a mixture of old taller trees as well as small standard trees. Varieties such as Saint Martin, Doux Normandie and Noel des Champs have been specially cultivated to provide the maximum aromatic qualities from their small fruits.
Etienne studied the methods of distillation from Cognac. These techniques and his inherited knowledge combine to produce a spirit that represents the flavour and ripeness of the apple alongside the mellowness and warmth of a well aged spirit. He has also experimented with ageing in different cask sizes and oak types to ensure that the flavour extracted through distillation is further enhanced during maceration.
Domaine Dupont uses three types of apples in a set formula : 30% sweet, 30% bitter and 40% are apples with high acidity, this gives the correct balance of flavour.The apples are cropped manually and stored in open wooden crates to allow them to rest and mature for up to a month before fermentation.
We list these fine calvados from this prestigious producer.

Calvados Pays d'Auge VSOP
Aged for around six years in 400 litre oak casks. This oak comes from the Loire Valley and is lightly toasted to help the capture the subtle vanilla aroma.The nose has fine oaky spice , touch of vanilla and balsam with an abundance of fresh apple and touch of butterscotch on the palate finishing with a little kick from the spirit.
Calvados Hors d'Auge
This is aged for 12 years. A fresh and elegant nose with intense vanilla apple, some floral notes of jasmine and rose and touches of sturdy oak and dried fruit. A smooth palate with good persistence, fine fruit with complex oaky flavour showing baked apples, vanilla, spiced fruit and good structure with a long finish and some mouth-tingling grip.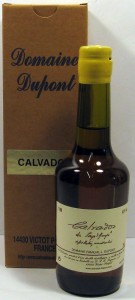 Calvados Vintage 1989 Half Bottle
A nose of dried fruits, apple and vanilla, preserved oranges and a little hint of rosewater. These aromas come back on the palate, baked apples and tarte tartin, a touch of raisins and spice with some classic oak structure and a fine layered finish.
Also Calvados Pays d'Auge, Vintage 1989 700ml and Calvados Reserve Pays d'Auge 1500ml
 
HAPPY CALVADOS DAYS
Del
Written by
siteadmin
(click for further articles)
Posted in
Alexander Hadleigh Latest News
,
New Spirit Listings
,
Spirit-Calvados
| The post has tags:
apple brandy
,
best calvados online retailer
,
best spirit retailer online
,
buy calvados online
,
buy calvados online from alexander hadleigh
,
buy wines and spirits online from alexander hadleigh
,
calvados
,
calvados reserve
,
domaine dupont
,
french calvados
,
hampshire wine merchant
,
pays d'auge
,
purchase calvados online
,
southampton wine merchant
,
uk online wine merchant
,
vintage calvados
,
vsop
|

Comments Off

on CALVADOS-DOMAINE DUPONT