Caribbean Rum at its very best
In 1922 , the Barnard family purchased the large sugar estate of Dennery. Ten years after that purchase, the young Denis Barnard founded a distillery at Dennery. The grandson of the original owners of Dennery is still the current Managing Director of St Lucia Distillers, now based at Roseau. The family run factory has been modernised over the years and new technologies and improvements constantly incorporated. A Pot Still was installed in 1998 and has meant that especially high quality flavourful rums which are still being aged , are now being produce. Two more Pot Stills have been introduced, adding to the variety of rums being produced.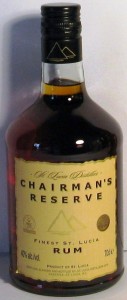 Chairman's Reserve is a blend of doubled distilled pot still and column still rums, aged for up to five years in bourbon barrels. The pot still richness comes through on the nose along with juicy fruits and a hint of honey. A medium bodied palate with a soft feel, a hint of vanilla and spices. Delicious on its own, but works well in a Mojito and many other great drinks.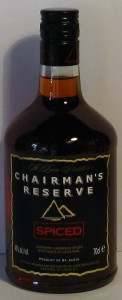 Chairman's Reserve Spice is the latest addition to the St Lucia Distillers range. Based on the same high quality spirit, it has been infused with authentic Caribbean spices such as cinnamon, clove, nutmeg and vanilla and richeria grandis which is known locally as "bois bande" to create a genuine St Lucia experience.
Try it over ice with ginger beer or cranberry juice for a refreshing long drink,
Winner of Gold Medal "Best in Class " International Wine and Spirit Competition, Winner of Double Gold Medal, San Francisco Spirits Competition
Rums of a very special nature
Written by
siteadmin
(click for further articles)
Posted in
Alexander Hadleigh Latest News
,
Cocktails
,
New Spirit Listings
,
Spirits-Rum
| The post has tags:
best online rum retailer
,
buy rum online from alexander hadleigh
,
buy rum online now
,
caribbean rums
,
chairmans reserve rum blog
,
dark rum blog
,
pot still rum online
,
pot stills
,
quality rum online
,
rum
,
rum blog
,
rum from the west indies blog
,
shop online for rum
,
spiced rum blog
,
spiced rums
,
spiced rums online
,
st lucia rum distillery
,
st lucia rums
,
wine merchants blog
|

Comments Off

on Chairman's Reserve Rum, St Lucia