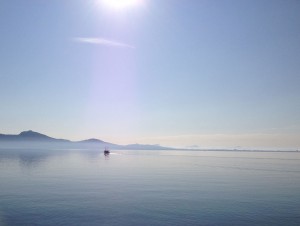 MALLORCA….Always Beautiful Sandy Beaches with lots of Sunshine and now Wonderfully Delicious Wines
With regard to great holidays in the sun, Mallorca is well known all around the world, but with regards to Mallorcan wines outside this beautiful island, they are not so well known. Maybe the reason for their limited availability outside the island is that only a dozen or so years ago most of the red wines produced were boardering on the harsh side and lacking finesse, while the white wines were mainly dry, thin and too acidic, only being enjoyed by the locals with most tourists sticking to beer, Menorcan gin and of course jugs of fruit filled sangria.
Although the wine making state of affairs has dramatically changed for the better in recent years, even so, the wines are sadly still relatively unknown outside the Ballearic Islands. There are many vineyards large and small around Mallorca with about twenty now producing stunning red and white wines along with some very decent rose, wines of such quality would command at least double the price if they were produced in Rioja or Ribera del Duero. Many of these vineyards I have visited over the past four to five years and can truly testify to the huge changes made to both facilities and the processing of wine e.g. modern stainless steel equipment and storage tanks, refrigeration and proper control of the fermentation temperature, automatic irrigation systems, much experimenting and more use of oak barrels for maturing wines and most importantly greatly increased planting and quality spacing of the more popular grape varities like cabernet sauvignon, syrah, merlot, chardonnay, viognier and malvasia and these varities are now producing many deliciously tasting varietal wines as well as carefully crafted blends.
Mallorca is perceived by most visitors to be an island in the sun, with many fine and interesting coastal resorts and beautiful golden beaches with crystal clear and seductively tainted azure waters and then to be arid,dry and uninteresting further inland where even today very few venture. For certain that is not the case, many parts of the central plain are extremely fertile, lush with ever ending fields of natures flowers, sweet smelling herbs and tiny leaved shrubs. Follow the ever winding narrow roads lined either side with wild poppys and you will also come upon acres and acres of fields of deep red soil producing each year successions of crops like strawberries, artichokes, potatos and green salads. Further on you could find huge orchards ripe with growing peaches, nectarines, oranges, lemons, almonds and we must not forget to mention thousands and thousands of olive trees. The whole island is a paradise, sadly to so few visitors.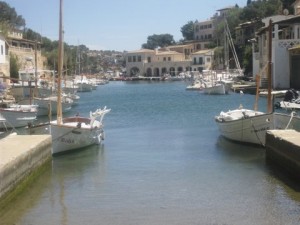 The centre of the island around Inca and Manacor (note, Nadal territory ) is where the majority of Mallorcan vineyards are located, although you can find small industrious and successful growers around other parts of the island. Traditionally the grape of the island has and still is Monastrell, on its own it simply does not produce good red wines, but blended with other varities, the results can be simply outstanding.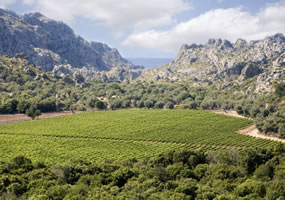 Out of the many first class vineyards in Mallorca our favourite has to be MORTITX, a sleeping beauty and that is why we import, retail and wholesale six of their wonderfully complex, deep and rounded wines. Mortitx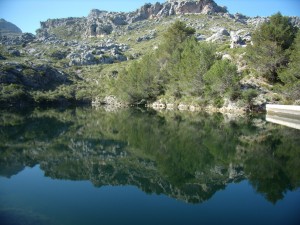 is located in the quiet North East of Mallorca a few kilometors from Pollensa on the steep rising road from Pollensa to Soller up in a hidden valley within the Tramontana mountain range. An awsome and captivating location with panoramic views looking down on to the enormous and attractive bays of Pollensa and Alcudia. Visitors are most welcome to taste and buy wines at the winery whose location is breathtakingly sited below rugged and steep pinky mauve coloured mountains with eagles and kites souring high above the sun baked pine trees and cliff tops and all around you take in the inviting scent of wild rosemary, thyme and juniper. This most appealing winery is owned by a number of private shareholders,many of whom own hotels and fine restaurants on the island and make available these exceptional Mortitx wines for sale in their own establishments.
From this magnificent vineyard we list the following wines:

Mortitx Negre Anyada Tinto
Mortitx Syrah


Mortitx Rosat

Mortitx Dolce de Gel
These wines can be purchased via our website or by visiting our Retail Outlet near Southampton
For Food Matches with the Mortitx Wines please check on https://www.ahadleigh-wine.com/wine-and-food/ which takes you to our websites specialist section on " Matching Wines with Foods" then just type in the name of the wine in the box located under "TYPE IN WINE".
Happy Mallorcan Days
Updated 23 September 2010
Written by
siteadmin
(click for further articles)
Posted in
Alexander Hadleigh Latest News
,
New Wine Listings
,
Wine-Spain
| The post has tags:
buy mallorcan wines online from alexander hadleigh
,
buy wines online from alexander hadleigh now
,
fareham wine shop
,
hampshire wine merchant
,
l'antull wine
,
l'u red wine
,
mallorca white wines
,
monastrell wines mallorca
,
mortitx wines of mallorca
,
negre wines mallorca
,
portsmouth wine merchant
,
red wines mallorca
,
rose wines mallorca
,
southampton wine merchant
,
spanish wines
,
uk wine merchant
,
winchester wine shop
|

Comments Off

on Wines of Mallorca…Vinyes Mortitx