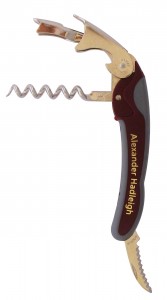 TOP TIP FOR WINE ENTHUSIASTS
Be very careful when opening old bottles of wine, port, madeira or even an expensive bottle Bordeaux or Burgundy. ( these wines tend to have longer corks than normal ).  As illustrated always use a double lever corkscrew.
Just follow these three simple steps:
Make sure the screw enters the centre of the cork.
Drill down to the maximum.
Always utilise both levers, then one has a much better chance of successfully extracting fragile and long corks.

HAPPY TOP TIP WINE DAYS

Graham D
Written by
siteadmin
(click for further articles)
Posted in
Alexander Hadleigh Latest News
,
Wine Accessories
| The post has tags:
Alexander Hadleigh Blog
,
alexander hadleigh buy online now
,
alexander hadleigh online
,
buy double lever corkscrews online
,
buy wine accessories online
,
corkscrews
,
hampshire wine merchant
,
portsmouth wine merchant
,
southampton wine merchant
,
uk wine merchant
,
wine merchant delivers worldwide
|

Comments Off

on TOP TIP FOR WINE ENTHUSIASTS