Glengoyne 17 Year Old "Very Special" Single Malt Scotch Whisky
Glengoyne is distilled slower than any other single malt Scotch whisky. Using air-dried malted barley, rather than using pungent peat smoke, they nurse the spirit through the stills at around one-third of the normal rate. This creates a more subtle, complex whisky in which all of the delicate flavours are freely allowed to express themselves –
The Real Taste of Malt.
Glengoyne has won a host of prestigious awards from all around the world including Whisky Magazine 'Best of the Best' and Golds and Double Golds at the San Francisco World Spirits Competition and the International Spirits Challenge.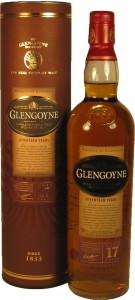 Glengoyne's distinctive style carries on improving with age. The same elements are present at 17 years old as they were at 10, only now the balance has artfully changed. A more concentrated, palate of flavours has emerged, though it still retains the same clean, delicate taste as the 10 Years Old. Probably the dram for which they are most famed.
"Remarkably smooth… creamy finish with a very delicate touch of sherry. A lovely, complex, sophisticated malt" by Michael Jackson (Whisky Expert), Whisky Magazine
HAPPY GLENGOYNE 17 YEARS OLD DAYS
DEL
Written by
siteadmin
(click for further articles)
Posted in
Alexander Hadleigh Latest News
,
Spirits-Whisky and Whiskey
| The post has tags:
buy whisky online from alexander hadleigh
,
glengoyne single malt whisky blog
,
glengoyne whisky online
,
hampshire and uk wine merchant
,
whisky blog
,
whisky shop dorset
,
whisky shop hampshire
,
whisky shop southampton
,
whisky shop sussex
,
wine merchant delivers worldwide