CAPE NORTH VODKA
Cape North is an ultra premium single grain vodka from a family owned company in Sweden.Cape North is small batch distilled five times and is the only Scandinavian vodka produced from a specified grain and in this case a specially selected highest quality wheat grain cultivated in France. The water comes from Porla, which is the most famous spring water in Sweden, renown for centuries for its purity, which is carefully filtered through diatomaceous soil using a kieselguhr filter rather than charcoal in order to preserve the delicate flavours and aromas. Cape North Vodka was launched in Sweden four years ago where it is now the leading ultra premium vodka and following its launch in London, it has achieved the favour and respect of top Uk bartenders and Spirit Journalists.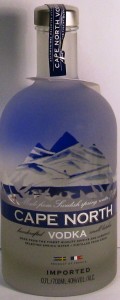 "One of the best vodkas I have ever encountered. It's creamy-smooth on the palate with subtle flavours of citrus, vanilla and wheat grain perfect drunk neat or in a Martini with a twist of lemon." – Paul Wootton, Editor of Class Magazine.
Winner of Silver Medal, International Wine & Spirit Competiton
Vodka does not get much better than this.
HAPPY VODKA DAYS
Graham D
Written by
siteadmin
(click for further articles)
Posted in
Uncategorized
| The post has tags:
alexander hadleigh
,
Alexander Hadleigh Blog
,
alexander hadleigh buy online now
,
blog about vodka
,
cape north vodka blog
,
hampshire and uk wine merchant
,
portsmouth wine merchant
,
southampton wine merchant
,
swedish vodka
,
wine merchant delivers worldwide
,
wine merchants blog