ZACAPA RUM         Zacapa are a rum producer from the Pacific coast of Guatemala, and produce their rums from 'sugar cane honey' (the juice of the cane with most of the water removed), as opposed to molasses. The rums are then developed as blends from different ages of the spirit. Their rums have all won numerous awards, and received an outstanding rating award from Wine Enthusiast magazine, obtaining 98/100. (www.classic-literature.co.uk)
Their rums are known as the Centenario range and are all highly sought after and hard to come by, and are considered 'the Cognacs of rum'. The relatively recently produced Zacapa Centenario Rum XO is one that we have managed to locate a limited parcel of, and is perhaps one of the finest rums currently on the market.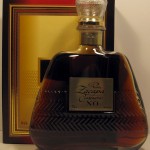 Zacapa Centenario Rum XO is a blend of old rums which are aged using the solera system process. The rum is then matured in selected bourbon and pedro ximenez barrels, and is then given a final ageing in French oak to acquire elegance and sophistication.
The result is a rum which is dark mahogany in colour, and has an astonishing nose of wood, spice, vanilla, almond and chocolate. These flavours are replicated on a beautifully sweet yet concentrated palate, along with a thick, viscous and very smooth finish.
Although there is no age statement to this rum, it is claimed that it is blended from rums aged for more than 25 years. It also comes in a stunningly packaged Cognac style bottle, and although not inexpensive, will stand up to any other spirit currently on the market in terms of quality, refinement and price. Zacapa Centenario Rum XO (£93.10) certainly comes highly recommended.
HAPPY RUM DAYS
Written by
siteadmin
(click for further articles)